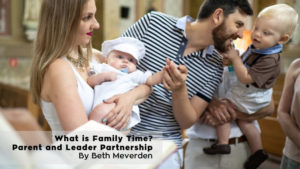 In continuing my study through Jenna Hallock's book, What is Family Time? Exploring God's Plan for
Engaging in Biblical Home Discipleship, the second chapter talks about the beautiful partnership that can exist between parents and those other people in our children's lives who invest in their spiritual growth.
One of Jenna's questions at the end of the chapter is, "Who else is investing in the spiritual life of your child/children right now? How can you intentionally partner with them?"
She gives "three simple ways the church and the family can work as partners to raise up the next
generation in Christ and encourage one another toward intentional Family Time".
I won't flesh out these answers, because I want you to read through them yourself, but here are the
partnership ideas:
1. Committed relationship – Are you committed to faithfully attending church and supporting your
child's spiritual growth? Church can be a great place for your children to learn the truths in the
Bible make Christian friends. What does your church attendance say to your children about how
important faith is to you?
2. Two-way communication – Are you communicating back to the people who are investing in your
children's spiritual growth? Do your children know we support these people? Do these people
know you support them?
3. Shared tools and strategies – Are you following up on what your children are learning at church?
Does the spiritual training your children receive at church replace or supplement the intentional
spiritual training you are doing at home?
Jenna ends this chapter with these true and inspiring words, "Working together in partnership, the
church and the family, gives our kids the best of discipleship both in our homes and in our churches. Not only will our children benefit, but God will be glorified as the next generation of believers is raised up." (See you NEED to read this book!)
Proverbs 22:6 says, "Start children off on the way they should go, and even when they are old they will not turn from it."
We need to work with as many people as will work with us to train up our children, to start them off on
the way they should go. We must utilize every resource and every connection in hope of our children's
salvation and spiritual growth. The next blog post will give an overview of the WHY this is so important.
Until then, email your children's or student ministry director at church and send some encouragement
and support that person's way! Pray for good connections between your children and those who invest
in their spiritual growth. Team. Support. Partner.