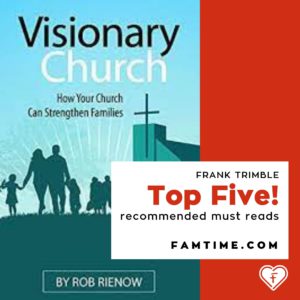 Just a few years ago, I was introduced to the writing and ministry of Dr. Rob Rienow. That same year, I had the privilege of sitting under his teaching for a day-long seminar. The experience left a lasting impression. Quickly, I picked up a few of his books and his resources have continually proven to be a steady source of inspiration for further work in family ministry. 
Visionary Church is a book that perfectly illustrates why I hold Dr. Rienow, and Visionary Family Ministries (visionaryfam.com), in such high regard. 
Though extremely difficult to narrow down, I've come up with five of my favorite quotes from Visionary Church:
"God created parents and grandparents to be the primary spiritual trainers of their children at home. God created parents and grandparents to shepherd and disciple their children. This is the divine strategy for next generation ministry." (56)

"We should not pursue family ministry because we believe it will work better, but rather because a parent-centered, family equipping model for ministry comes to us from the pages of Scripture." (182)

"God's creation of the local church did not eliminate His purpose for the family. Rather, in the New Testament, He lays out specific ways in which the family and the local church are to relate to one another and accomplish different aspects of His plan to build His

C

hurch. The local church is built on the health and spiritual life of families." (229)

"Think of family worship in the home, and corporate worship with parents at church as two essential "spiritual meals" for children. These were ordained by God and not man. These are the spiritual essentials. We might consider other discipleship opportunities as vitamins. Youth group. Retreats. Sunday school…Vitamins are valuable. Vitamins can play a key role in a child's physical health. But what if a child only eats vitamins, but never any meals? As good as those vitamins may be, the child will be malnourished." (292)

"If you spend an hour with children, they get one hour of ministry. If you spend an hour training and equipping parents, your hour multiplies itself into hundreds of hours of ministry in the home." (314)
This book is one of my favorites to recommend to pastors in hopes that they will consider the content alongside their staff teams. While the book is extremely practical, it proposes very needed paradigm shifts in ecclesiology. The family and/or church that puts these Biblical principles into practice will slowly-but-surely begin to see a shift in the culture of their home and/or church. 
I cannot wait for you to read this book!
Frank Trimble
Director of Training and Consulting
Family Time Training
Famtime.com