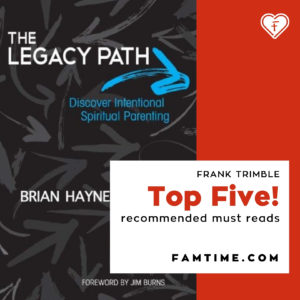 When I was initially exposed to prominent family ministry voices, Brian Haynes came highly recommended to me. At that stage in my growth, I was like a sponge. I loved reading as much as I could in this new (to me) world of family ministry. Authors like Brian were blowing my mind on a regular basis and inspiring me to think through extremely biblical ideas such as what can be found in The Legacy Path. Brian's Legacy path was born out of doctoral research, parenting experience, and many years of experience in pastoral ministry.
In this book, he advocates a recognition and capitalization of 7 milestones within the life of every child that can be used for the glory of God. Throughout scripture, we see a pattern of family rhythms and milestones that God has designed for the purpose of discipleship.
Here are the milestones Brian included in the journey of home discipleship called the legacy path:
Baby Dedication
Faith Commitment
Preparing for Adolescence
Commitment to Purity
Rite of Passage
High School Graduation
Life in Christ
In this book, parents are given very practical ways to partner with the church as they seek to capitalize on these 7 very common phases of a child's life. You'll leave reading this book with inspiration and ideas for your church and family.
Although it was very difficult to narrow it down, here are my top 5 quotes from this helpful work:
"Is my life so complex that I don't have time with my children to hang out at home and to go for a walk together or be there when we go to bed and when we get up? Simplicity buys us time with our children that enables us to disciple them and pass on a godly legacy." (35)
"Your leadership with each of your children goes beyond a weekly Faith Talk. Your Faith Talk will be the launching pad for one-on-one conversations with your children throughout the week focused to their section of the path." (49)
"Remember, salvation is the work of the Holy Spirit and not the manipulation of a well-intentioned parent. Don't rush to celebrate milestone two. Instead lead your child gently using Faith Talks, God moments, and Church and watch as God works in his life." (66)
"Even the best family leads better spiritually when they do it in partnership with their faith community." (100-101)
"A day is coming soon when new parents won't need to discover intentional spiritual parenting. Do you know why? The younger generation will know the path because they walked it with you as their guide." (120)
Every family is different and every family has different traditions. However, if you're committed to a local body of believers and to discipling your kids in the home, this book is for you. You'll be surprised at its simplicity while also being challenged in your own walk with the Lord. This framework could mark a new emphasis in the life of your home and in the life of your church. Pick up your copy today! (https://amz.run/4gHs)
Frank Trimble
Director of Training and Consulting
Family Time Training
famtime.com
frank@famtime.com