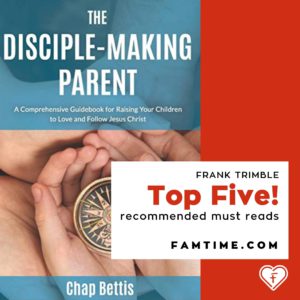 It may seem like an overused description on these top 5 blogs, but the book we are looking at today is truly a one-stop-shop resource for parents.
Can we pause for a moment to thank God that so many helpful books are available these days? Just this morning, I was on the phone with a senior adult. After talking through some of the resources available today for families, she said, "I wish I could've had something like this when my kids were young!" The staff at Family Time Training hears phrases like this all of the time. 
One of our hopes with these top 5 blogs is to help you sift through the piles of good books out there to hopefully result in a curated list. We praise God for helpful resources but also acknowledge that there are many to choose from!
Chap Bettis published this book in 2016 and it covers so many bases in a thorough way. As the subtitle describes, this book is truly comprehensive. To give you a taste of its quality, here are 5 of my favorite quotes:
"In allowing us to create and raise another human being, God has gifted us with an awe-inspiring privilege and responsibility. Your beautiful baby is an image-bearer of God. He or she is made to glorify God and enjoy an eternity with Jesus Christ. That's what you have created–not just a baby–but a person who will live forever in heaven or forever in hell." (4)

"…no one can take the place of Mom or Dad building spiritual truth into the lives of their children. Yes, the church can and should help us. With the right ministry philosophy, there is nothing wrong with having one of the shepherds of the church focus primarily on young people. We need the supplemental help. But no parent can dismiss his or her God-given duty. Will you take up that call?" (16)

"I love my four children more than life itself. But I cannot love them more than I love Jesus (Luke 14:26)." (20)

"There is something about family devotions that seems to wrap a number of spiritual dynamics in one package. A man is reminded of his appointment as pastor of his family. The children are reminded of their authority under Dad and Mom. Everyone is reminded of the centrality, authority, and necessity of the Word of God." (154)

"Are you trying to parent in your own strength? Are you discipling your children in that same way? Jesus has not left us as orphans. He has come to us in the power of the Holy Spirit to guide us, comfort us, teach us, empower us, and fill us. It is Chris in us–the hope of glory–that makes the difference in the Christian life." (260)
Chap speaks with authority and conviction throughout the book. The reader will find themselves inspired and challenged at the same time. It would be so beneficial for a group of parents to walk through this resource together. It would also be a great gift to give to parents on the Sunday that babies are dedicated. 
However you choose to use the resource, I hope you're able to walk away from it feeling ready to follow God's lead with your family.
Frank Trimble
Director of Training and Consulting
Family Time Training
frank@famtime.com