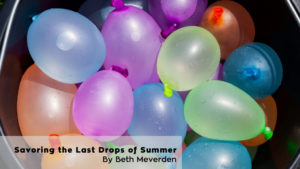 You know when you are drinking a milkshake and there are just a few last drops left in the bottom of the glass? That's what the end of July feels like to me. You've got to get your straw and savor it!
So why not pick one or a few of the activities on this list and spending some special, savoring time with each of your children?
Check your Summer Bucket List and make sure there's nothing left unchecked.
-Make a special one-on-one date with each of your children with you or your spouse.
-If you have teens, pass your eldest a $20 and ask him/her to take the younger one(s) out for ice cream!
-Go on a hike nearby you've never been or a place you skipped over so far this summer.
-Make homemade ice cream and let your children add their own toppings.
-Make shadow drawings.
-Talk about what you would like to do NEXT summer… then do some of those things before school starts!
-Do a summer debrief and list all the fun things you got to do as a family and as individuals this summer.
-After you debrief, spend some time thanking God for all you were able to do TOGETHER this summer!
Here are some fun questions to ask your children as you debrief about what you did this summer:
1. What is something we did as a family you would tell your friends they should do if they can? Why did you like it so much?
2. What is something we did you wish we could do again before school starts? Why would you like to do it again?
3. What is something we did this summer that was physically hard for you? Why was it hard for you?
4. What is something we did this summer that was mentally hard for you (playing a specific board game, etc)? Why was it hard for you?
5. What are your top 5 favorite things we did this summer?
Give thanks to the Lord, for he is good; his love endures forever. 1 Chronicles 16:34
What is something you can do in the next couple of days to savor the last drops of summer?