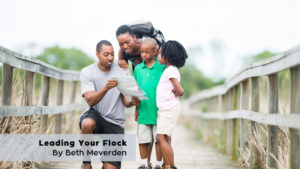 We covered the importance of tending to and guarding our flocks as shepherds in our homes. Today we'll cover the importance of being an example to the flock in our homes!
1 Peter 5:2-3, says "Be shepherds of God's flock that is under your care, serving as overseers – not because you must, but because you are willing, as God wants you to be; not greedy for money, but eager to serve, not lording it over those entrusted to you, but being examples to the flock."
The theme of being an example rings throughout most of my encouragements for parents. Children can become followers of Jesus simply by the Holy Spirit's leading and God bringing other people to guide and direct those children toward becoming like Jesus. But may that not be said of our children. May the Holy Spirit do His work through us to disciple and lead our children. May He guide us to become more like Jesus, to follow Him so closely that if we stepped out of the way our children would bump right into Jesus!
What do you want for your children? A closeness with Jesus in prayer? A knowledge and understanding for the lost and the hurting? BECOME who you want your children to become.
Children don't always follow their parents' footsteps. Sometimes they go their own way and reject what they were taught. BUT if we don't first put on the shoes of the readiness of the Gospel of peace (Ephesians 6:14-17) and start walking in them… there will be no footsteps for our children to follow… come back to. So, friends, put on those shoes and start walking.
Walk the walk AND talk the talk. Teach and train your children anything and everything you can. Be intentional about the choices you make in your own life, in your marriage, and in the way you train our children, so they have an example to follow.
My friends who have found Jesus apart from their parents leading, guarding and tending have had to work harder to grow spiritual roots. God is gracious and generous with them and provides what they need, but don't let that be your children. Don't let them follow Him in spite of you, pave the way for them to follow Him because of you.
May you shepherd your flock with tenderness, guarding them, and leading them right to Jesus, the Great Shepherd who knows and loves them even more than you do! May the Good Shepherd tend, guard and lead us so we can lead them like He leads us.
What do you need to work on in order to be a better example for your children of a follower of Jesus?