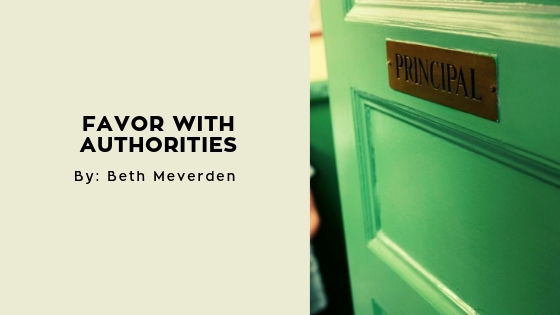 Part of supporting my children in their mission field of school is praying for the authorities in their lives to find favor with them. I am not talking about favoritism. I'm talking about the people who watch over your children at school knowing their names and looking out for them. It's a special protection for your children to be known and liked by the authorities over them. If your children have favor with their authorities, when something goes wrong at school (a lock out or lock down at school or a kindergartener pulls the fire alarm), and your children are running behind in the restroom, their absence will be noticed by more than their teacher!
I make it a point to connect my children with their principals and office staff. We will often write special thank you cards (beyond Christmas and Teacher Appreciation weeks) for the Administration and Staff and they will sometimes get extra hugs and smiles. I make sure the Administration and Office Staff know my children's names and how to pronounce them in the event I come get them for an appointment for in an emergency.
I also encourage my children to connect with their janitors and lunch staff to go out of their way to be helpful to those people. An extra thank you and a "can I carry that for you"? Will go a long way with people who are often underappreciated and overlooked.
Speaking of overlooked, those Educational Assistant Crossing Guards you see each morning and afternoon would LOVE for you to bring them a set of hand warmers on one of the first cold days of the school year. The thanks won't stop all year and your children will be known as servants not just kids for them to babysit at recess. Teaching your children to say "thank you for watching over us" as you pass or "hope the sun keeps shining for you today" lets them know your children appreciate them and their hard work. When your children are polite and thoughtful, they stand out and find favor with adults. That kind of favor is a blessing from the Lord!
And if you give even a cup of cold water to one of the least of my followers, you will surely be rewarded. Matthew 10:42
How do you help your children earn favor with their authorities?