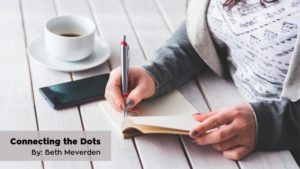 For the last few years, I've spent some time journaling on the last couple of days of the year, processing what God taught me, and what I still need to learn. And, oh, there is still so much to learn.
Last Year
Last year, I wrote 2020 in big bubble letters (yes, I was an 80s child and 90s teen…) and wrote a few good memories of the year inside the numbers. 
Then I wrote 2021 in dotted letters… to remind me I'm not meant to know what the year will hold and that I need to trust God with whatever happens. It's a hopeful, anticipating activity… writing dotted numbers and trusting Him to connect the dots. 
This Year
This year, I plan to write the names of my children in dotted letters. It'll be a reminder that it's not my job to have set expectations of who they should be and what they should do. It's an act of surrendering them (again) to Jesus and His leadership, not mine. 2022 will be written in dotted letters, too. It's His year and not mine. I'm His and I trust Him. His specialty is connecting the dots… taking us on journeys from this place (emotionally, spiritually, and physically) to another one… like a map. He's the One who will make the paths of that map straight and the destination is set.
I'm going to do my best to sit back and enjoy the mystery instead of trying to figure out the details this season. Why don't you join me?
Trust in the Lord with all your heart and lean not on your own understanding. In all your ways, acknowledge Him and He will make your paths straight. Proverbs 3:5-6
Things to Ponder:
What was great about 2021?

What active steps can you take to surrender 2022 to Jesus?