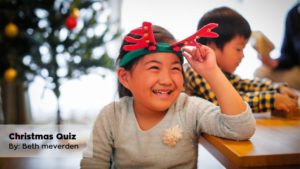 There's a great Christmas preparation resource for families on famtime.com! You'll find it under the Resources tab and within the "Featured Family Activities" link. If you look at December's activity, you'll find the Christmas Quiz! I have used this activity with my children, elementary school Sunday school, and my youth group! It's an amazing resource!
There are 21 great questions to test your kids' (and your own) knowledge of what really happened that first Christmas! There are Scripture references so you can read the truth for yourselves! It is a very fun activity!
Sprinkles:
Here are some fun sprinkles to add to the activity time to personalize it for your family:
*Come up with a True and False fun quiz about each person in your family's birth and go through those quizzes to introduce the quiz about Jesus' birth. Here are some sample questions to answer:
– Dad was born in Kansas City, MO. T/F
– Mom's sister was 5-years-old when she was born. T/F
– There was a blizzard the day before Haley was born. T/F
– All three children came home from the hospital in the same onesie. T/F
– Sarah calmed down when Mom sang to her in their hospital room. T/F
*Bring a picture of everyone in the family as a newborn to your Family Time activity and let everyone guess who is who.
*Bake a birthday cake or cupcakes to celebrate Jesus' birth as you do the quiz together.
And while they were there, the time came for her baby to be born. She gave birth to her firstborn son. She wrapped him snugly in strips of cloth and laid him in a manger, because there was no lodging available for them. Luke 2:6-7
Things to Ponder:
What is one of your favorite things about celebrating Christmas with your children?
What are you going to do this Christmas to keep the focus on Jesus for your family?